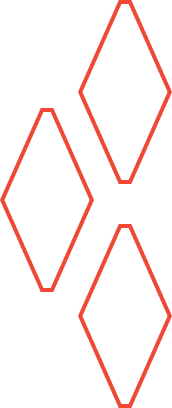 Picking the right wedding caterer is stressful.
And you shouldn't have to settle for:
Outsourced staff that doesn't care about your event
A completely forgettable meal
Instead, here's what you can expect when we cater your event: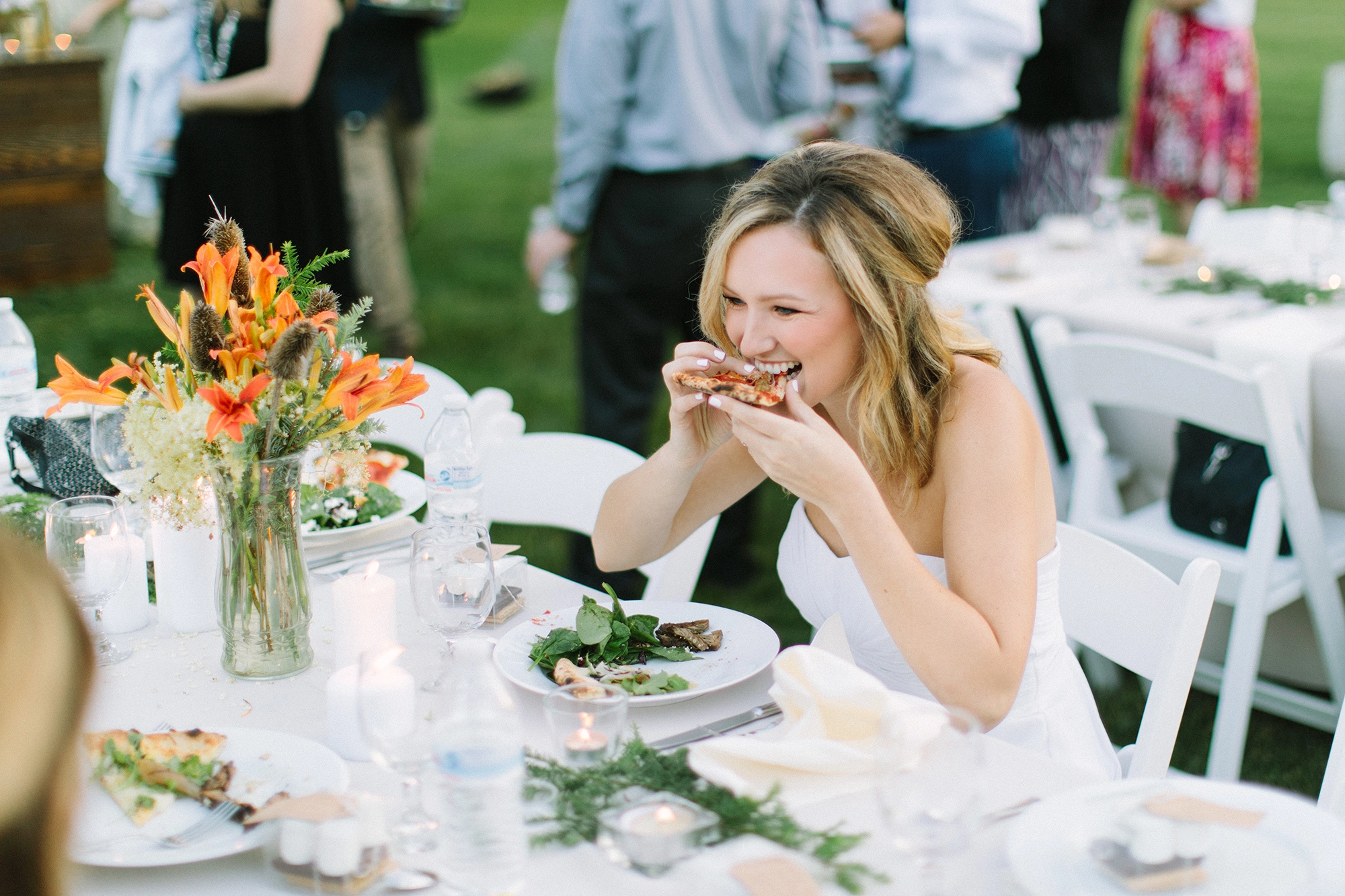 A Fun, Non-Traditional Experience
Drab, banquet-hall buffets? Stuffy, white glove service? Hard pass. Your wedding meal should reflect who you are and what you love – not what tradition says it should be. Grams might not totally get it at first – "PiZza?! AT yOuR weDdINg?!" – but trust us, post-dinner, she'll be a believer – believe dat.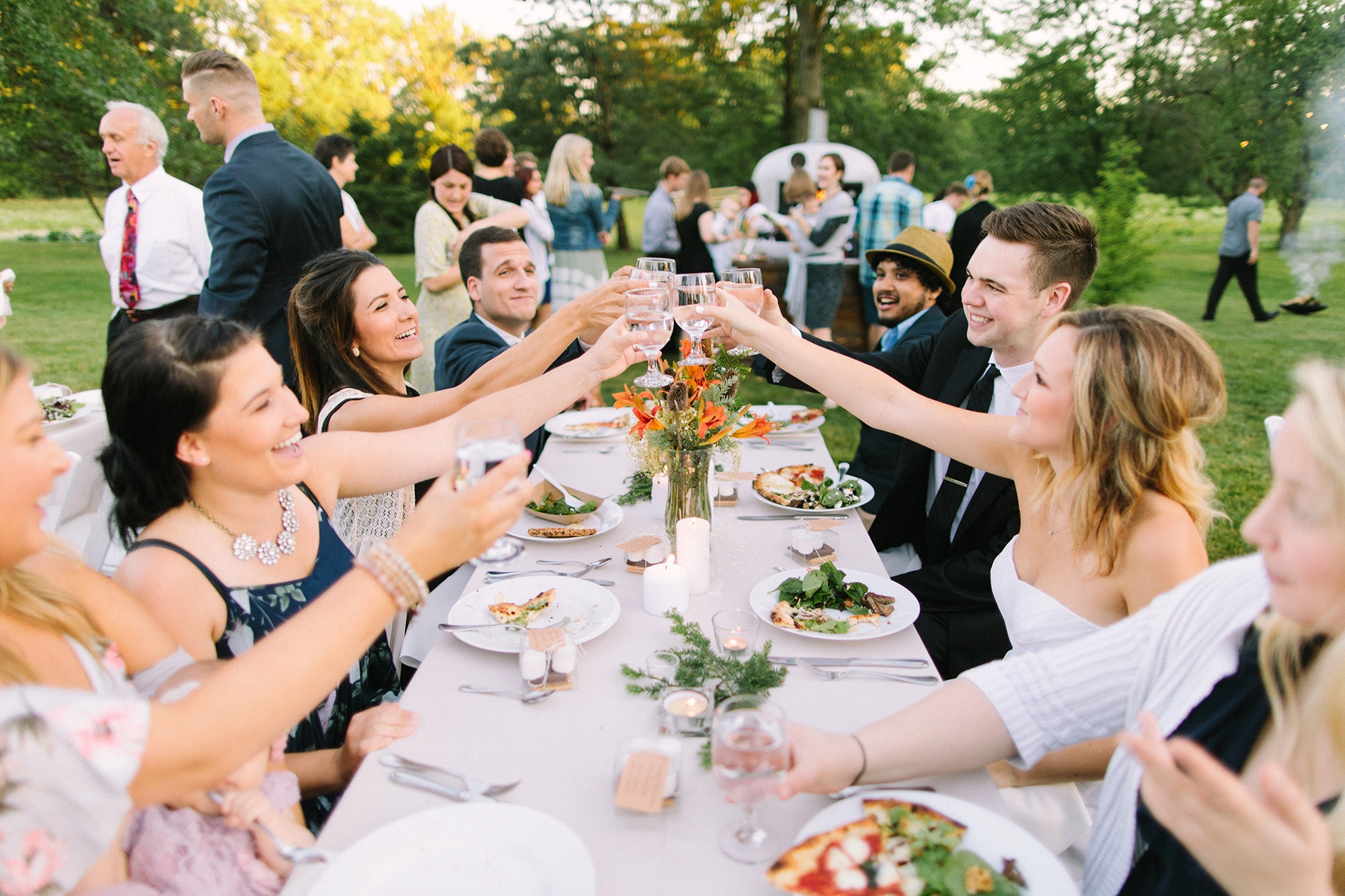 Food + Drinks Your Guests Will Rave About
Your guests were mentally preparing for dry chicken and a sad vodka cranberry. But we make everything on-site, mere minutes before it's served. So get ready to hear "Ermergherd, this is all so delicious!" alongside weepy, heartfelt thank you's all. night. long.
A Team That Takes Care Of It All
Book us and chill. From the beginning to the big day, our experienced, in-house team will handle all the nitty-gritty details – from coordination to cooking to cleanup – so you don't have to. Hakuna matata, babe.
These couples LOVED their wedding catering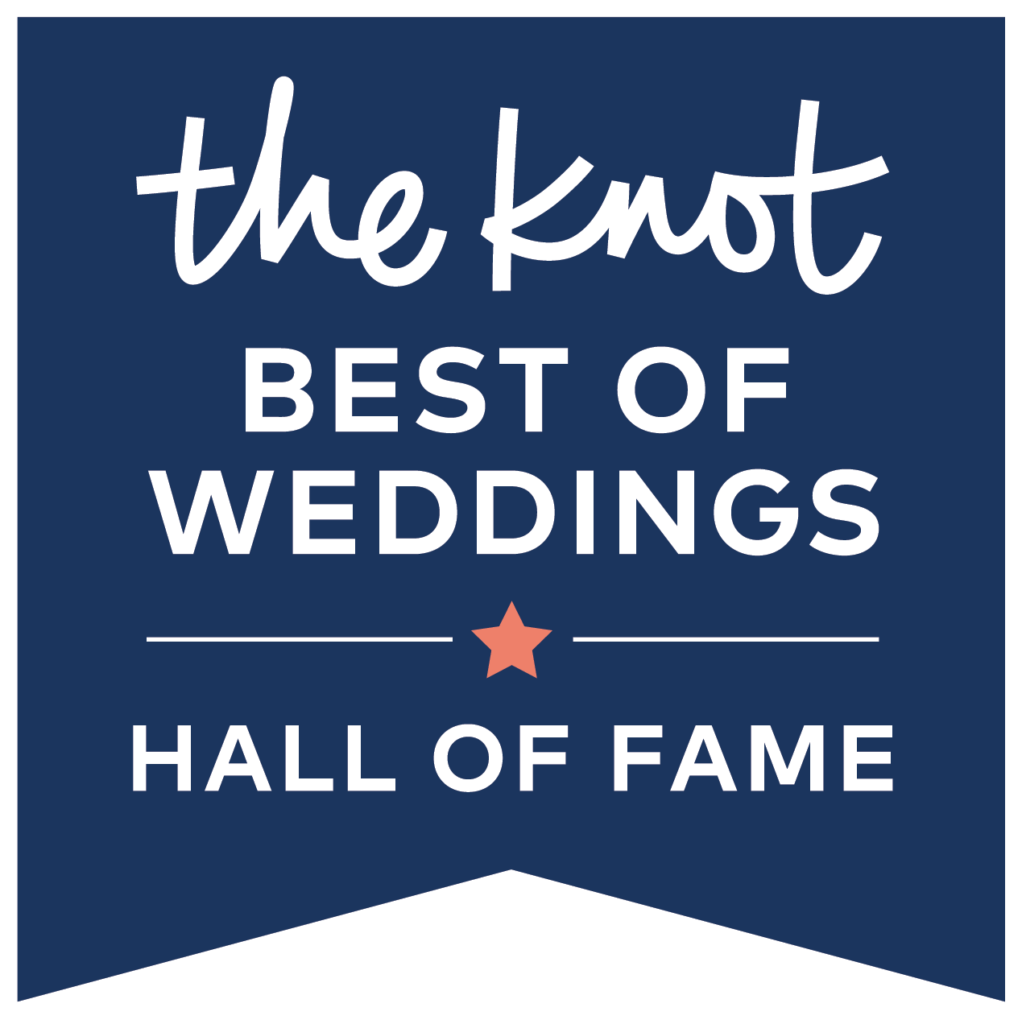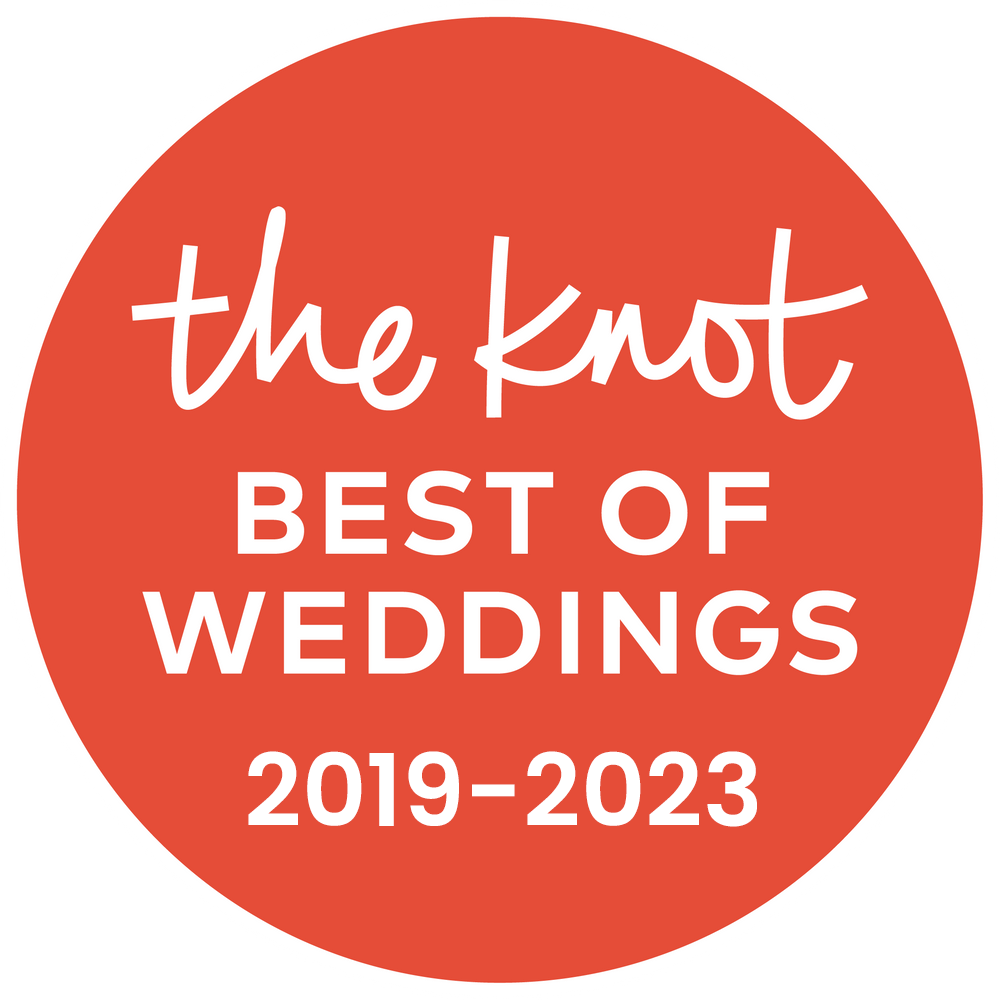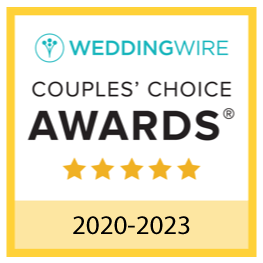 ★★★★★
"We hired Wooden Paddle for our wedding and our guests are still raving about it! The food was phenomenal. The pizza made the night so much more fun, and we're recommending Wooden Paddle to any couple that'll listen!
– Kelsey C
★★★★★
"Pizza for our wedding dinner…..YES! Hiring Wooden Paddle was seriously the best decision we made when it came to wedding day vendors. Our guests have not stopped talking about this since May! I would hire them again in a heartbeat. 15/10!"
– Catherine K
★★★★★
"We really wanted a less traditional catering option for our wedding since we're big foodies, and we're thrilled we decided to go with Wooden Paddle in the end. Everything is fresh, creative, and so well balanced. Their event staff was equally excellent, and we didn't have to lift a finger during our wedding. This really helped us enjoy the day and be fully present with our guests."
– Claire S
★★★★★
"One of my husband's biggest wants for our wedding was food that wasn't some dry chicken that people would begrudgingly eat, and boy did we luck out finding Wooden Paddle! Not only did they deliver a dinner that people are still raving to us about, but they also created what was possibly the best charcuterie board of my life! Absolutely epic! Not a single regret and would definitely encourage anyone to consider them."
– Jenae R
★★★★★
"Wooden Paddle was everything we wanted the catering at our wedding to be and more! The team was easy and flexible to work with leading up to the big day, and that level of service continued on the day of the event. But of course, what really separates them from a typical caterer is the food…. HOLY CRAP the pizza was SO GOOD!!! They delivered in every sense, and made the night completely unforgettable."
– Michael G
★★★★★
"Our guests won't stop raving about the food! So many guests mentioned that it was the best food they've ever had at a wedding, and we totally agree! The entire process of hiring Wooden Paddle was stress free and the entire team was very professional. The service was so attentive – they even went out of their way to make sure that we – the bride and groom – were fed, which I totally appreciate because we were so busy talking to guests! Thank you for making our day stress free and our guests happy!"
– Michelle R
★★★★★
"Wooden Paddle blew our expectations out of the water! If you're considering them, don't wait for a second longer – book them! They were so helpful every single step of the way. It felt like before I even had a chance to think of the question I had for them they were already answering it for me. Skip the boring chicken or beef option (that if I'm being honest, are never very good) for Wooden Paddle! Everything was a HIT with our guests."
– Sarah B
★★★★★
"As a bride that is allergic to wheat, I just assumed my wedding dinner would be some prepackaged Udi's meal – but boy was I wrong! Not only does Wooden Paddle have the best pizza, but they also have an amazing gluten free crust, AND dairy free cheese. There were options for all of our guests, dietary restrictions or not. Every single guest came up to us during the reception to say that our wedding had the best food out of any other wedding they'd ever been to!"
– Alyssa A
★★★★★
"We loved the idea of an unpretentious, but leveled up 'fancy pizza' meal for our guests, and they certainly delivered. They set up a wood-fired mobile oven outside and ran fresh pies up to the second floor of our venue. Wedding food is usually a gamble at best, so we were stoked when our guests raved about the meal – 'the FIG one!' was a big hit. Celina was a huge help coordinating everything, giving guidance on quantities and tweaking offerings to feel most 'us'. We were so grateful to have her guidance. Thrilled with our choice!"
– Kelcey M
Your big day only happens once — so let's make sure it's unforgettable
Booking Us For Your Event is Easy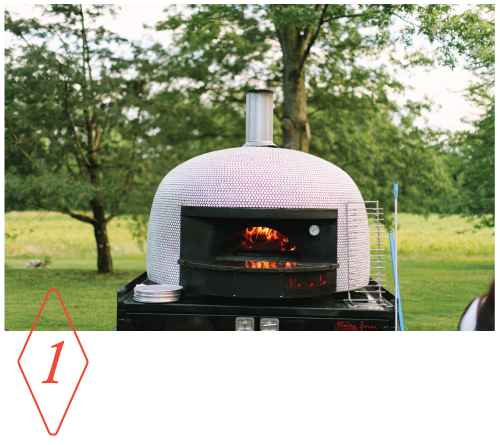 Our pricing is transparent, and our menu is fully ala carte. So get an easy-to-adjust quote, and then add, take away, upgrade, or swap out as you please.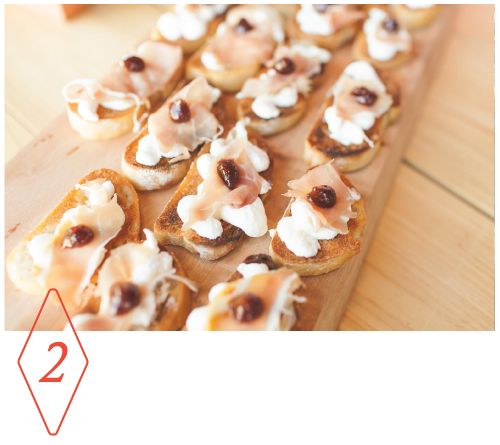 You'll be invited to a private, one-on-one tasting so you can try absolutely anything and everything, and hand pick your entire event menu. Come hungry! (And thirsty, as it were.)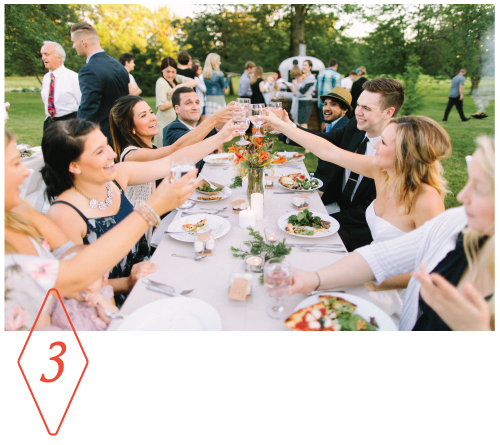 Eat, Drink, + Be Married!
Day-of, we'll handle every dang thing, and give your guests the-best-wedding-food-they've-ever-had. So sit back, relax, and prepare yourself for a lot of teary eyed thank you's.
Have questions? We've got answers.
And if you've got a question you don't see here, be sure to send us a message.
How far do you travel?
We generally travel up to 50 miles from our Wooden Paddle kitchen in Lemont, IL. Is your event a little bit, or a lot a bit, further away? Let's talk anyway! We do make exceptions.
Do you work with my venue?
We've catered at or are preferred vendors for many different venues in the Chicagoland area, including Warehouse:109, Firehouse Chicago, Imago Events, The BRIX On The Fox, Ovation, Greenhouse Loft, Blumen Gardens, Danada House, The Bridge, Storybook Gardens, Silver Fox, and more.
Even if we are not on your venue's preferred vendors list (yet!), there's still a pretty good chance we'll be able to cater your event. We've done it before, and gosh dang it! We'll do it again. In addition, should you choose to forgo a venue and have your event at a private residence, we are happy to cater there as well.
Do you offer tastings?
Absolutely! We love having guests come in, get to know us, and taste what we have to offer. Just be sure you come hungry!
How early do I need to book my date?
At the very least, events need to be booked one month in advance, but the earlier, the better! We book on a first-come, first-served basis. For weekends, we generally book about one year out.
What about guests with dietary restrictions?
No problem! We're glad to accommodate them. We have gluten-free, dairy-free, vegan, and vegetarian options!
Are event staff included?
All event staff — chefs, servers, bartenders, and event captains — are charged separately. How many chefs, servers, and bartenders we'll bring depends on details like your guest count, menu, service style, and what your venue requires caterers to take care of on the big day! An event captain is needed for any wedding, any size event with food and bar, or any event with seventy-five (75) or more guests.
Where will you put your oven?
The oven is maneuvered by a tow vehicle, and one of our highly skilled, trailer-backer-uppers. (Mmm yes, 'tis their formal title.) So, wherever you'd like us to put the oven must be accessible by vehicle, and have a flat, dry area that's at least 12′ long, and 8′ wide. We'll also need another 12′ x 12′ space in front of the oven, for our pop-up kitchen.
How many people can you serve?
We're able to comfortably serve up to 250 people with the use of just one of our ovens. Far too popular to limit your guest list to only 250? Not a problem. In that case, we'd just bring a second oven.
Do I get to pick my menu?
You bet! First, come try the goods! At your tasting, you'll get to sample most of what we serve and get a better idea of what you'd like your menu to be. You'll select four different signature pizzas, and then you can round out the rest of your menu with appetizers, salads, desserts, and drinks.
Do you have an event minimum?
Yes! Your event minimum is dependent on the day and time of your event. It is the total for all food and beverages.
What's your service charge?
A twenty percent (20%) service charge covers on-site kitchen, bar, and rental set up and breakdown, wood for the oven, serving ware, disposable dinnerware, trash disposal, liquor licensing, and general liability insurance.
Alright, I'm in! How do I get started?
We're so excited to chat with you about your event! Simply book your event here, and we'll get this ball (and dough) rolling.
See how we do things at a real event!
Pricing does not include sales tax or event fees, and may change. Get your custom quote for the most accurate and up-to-date pricing!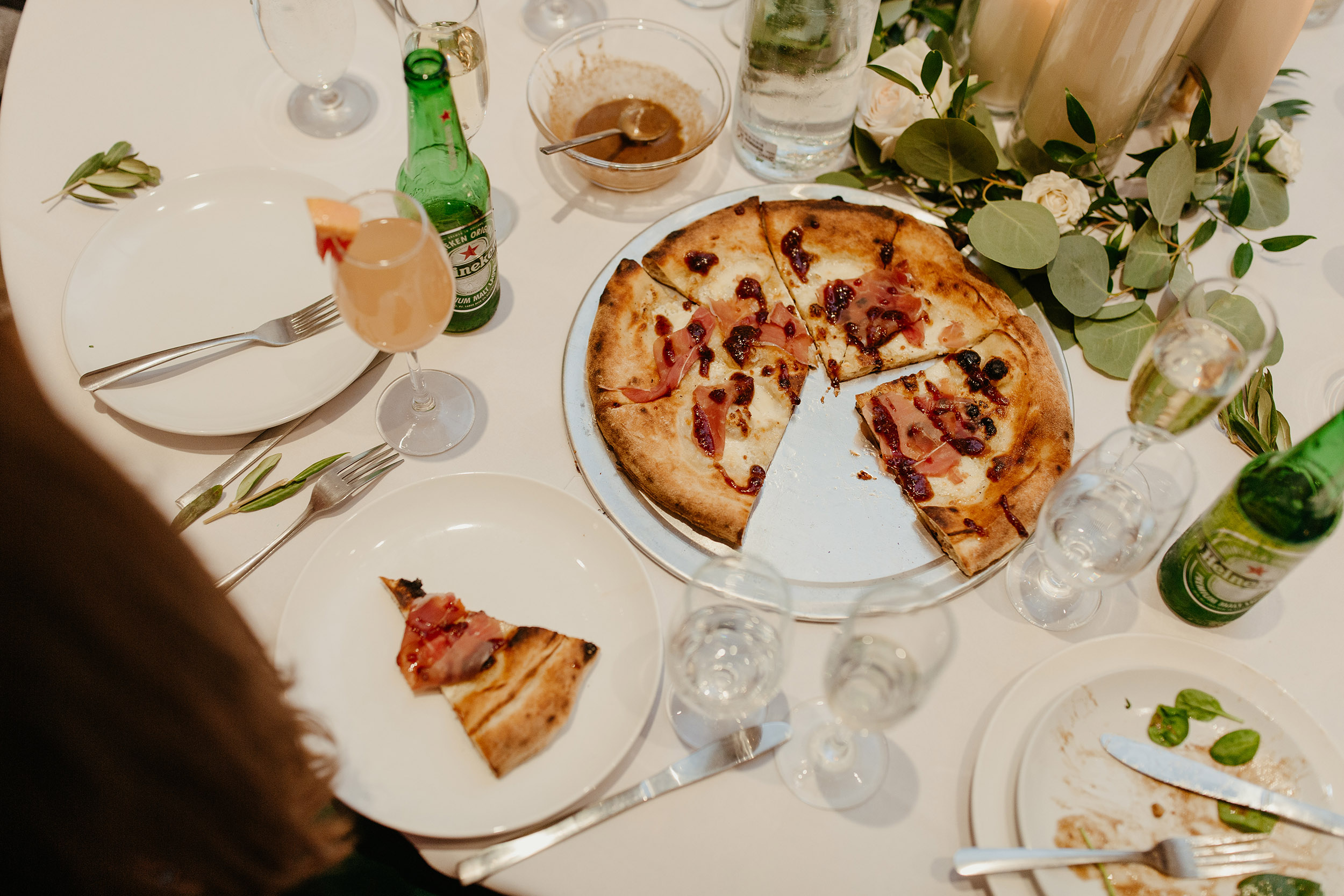 Starting at $58 pp
Average: $67 pp
Includes:
1 appetizer
4 pizzas
1 salad
1 dessert
Culinary + Service Staff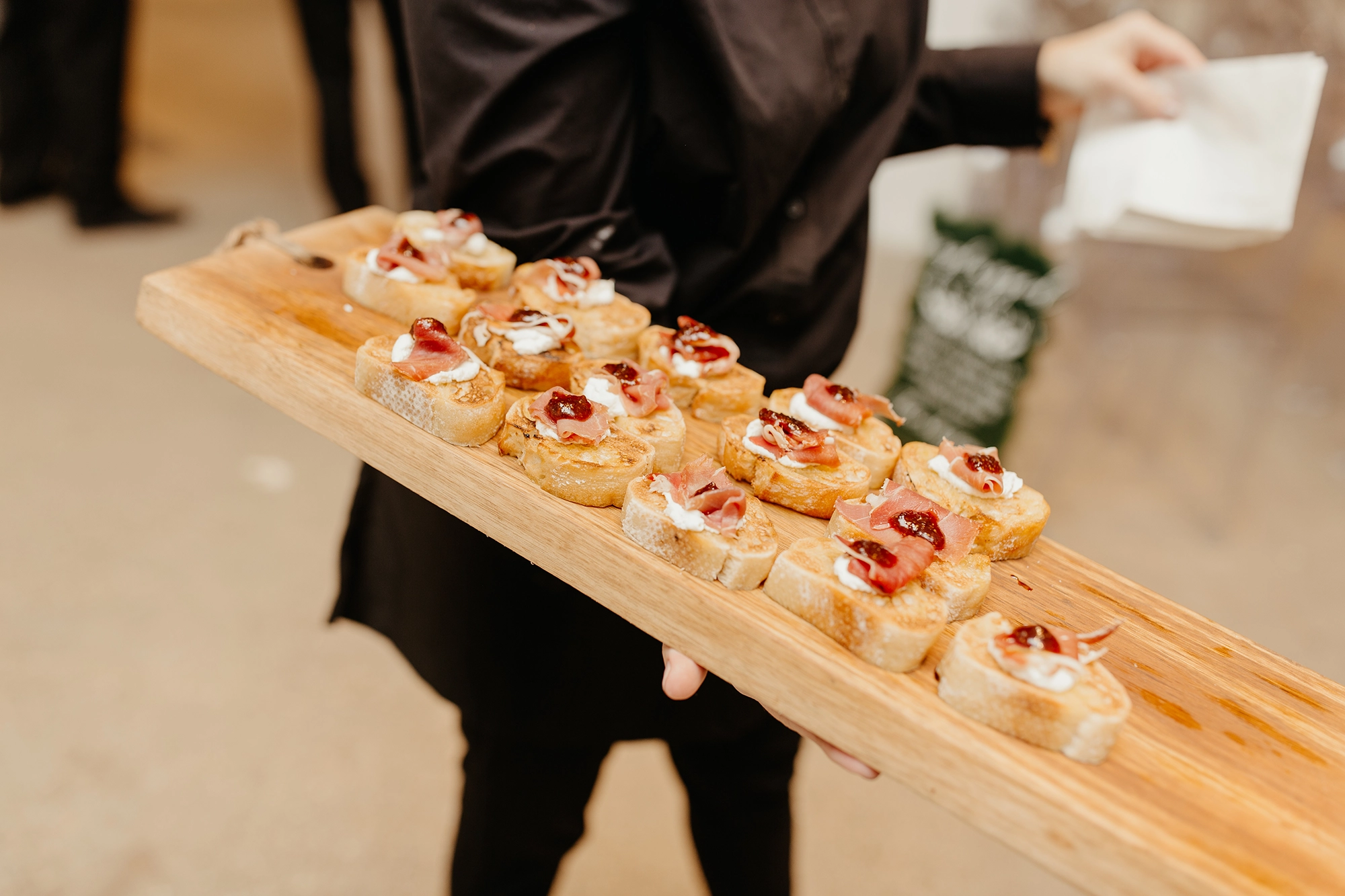 Starting at $93 pp
Average: $106 pp
Includes:
2 appetizers
4 pizzas, 1 pasta
1 salad, 1 vegetable
2 desserts
Culinary + Service Staff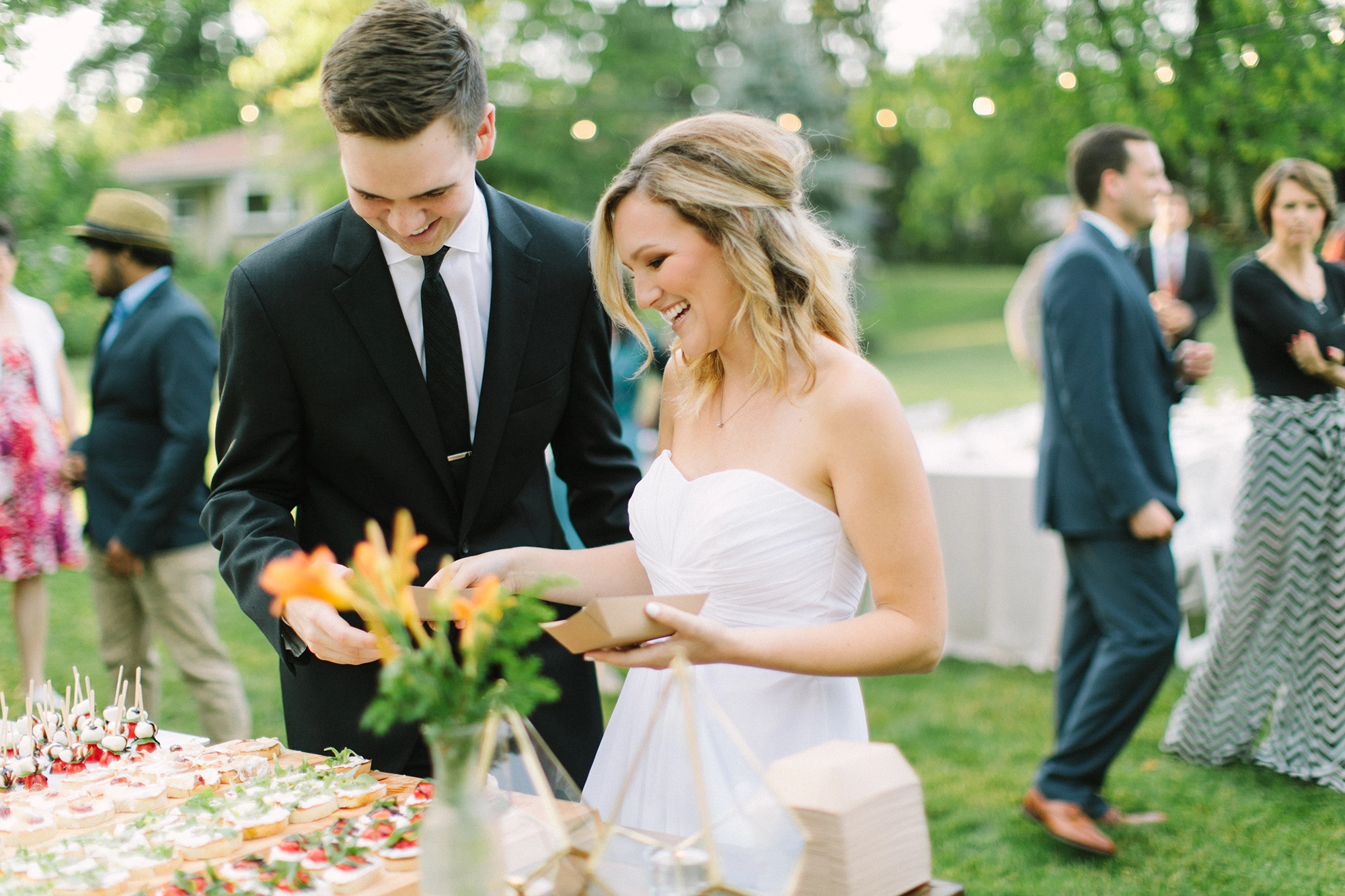 Starting at: $128 pp
Average: $141 pp
Includes:
3 appetizers
4 pizzas, 1 pasta, 1 meat plate
1 salad, 2 vegetables
3 desserts
Culinary + Service Staff
Ready to book your event?
Tell us about your event by filling out the form below. We'll respond within 24 business hours and build a custom quote for your event!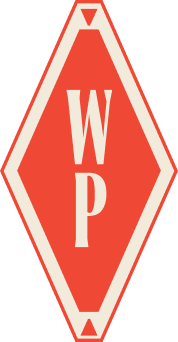 Happiness Guarantee
We are so sure you're going to absolutely love having us cater your event. But, on the off-chance that we happen to disappoint in some way, we will make it right – no holds barred, no ifs, no ands, no buts –  no matter what.  Whether that's a refund or a redo, we'll do whatever it takes to make it right. Just reach out to us at catering@woodenpaddle.com. Your happiness is guaranteed here.